Blakes Began as a Popular Resort Hotel
What began as the Blake Hotel - once one of the finest resort hotels in the country - is part of Alexandria's rich history.... John Blake opened the hotel for business in 1903. He sold the hotel to A. J. DuBeau in 1923. The price: $30,000. DiBeau changed the name to Blakes by the Lakes and ran the hotel until 1947, when it was sold to the Awes family.

The hotel was a hospitality industry success. Early clientele came to Alexandria by train and automobile from all over the country, with maids and trunks of clothing. The Blake Hotel guest register included famous names such as Drs. Will and Charles Mayo of Rochester and other famous Mayo Clininc doctors. Clarence Darrow rested at the Blake Hotel following the Leopold-Loeb trial. Actress Rosiland Russell and her husband were once guests. Other guests included famous professional people and captains of industry from St. Louis, Kansas City, Wichita, Fort Worth, Tulsa, Houston, Dallas and many other cities. Many were involved in the oil industry.

At its peak, the main building, which was 102 ft. by 38 ft., housed 80 guests. Four cottages were added: Oriole, Wren, Robin and Bluebird. Later, a log cabin on the premises was turned into a honeymoon cottage and named Hummingbird. In 1925, rates were $10 a day (American Plan). They were increased in the 1930s to $15, then to $25. For this, guests ate three delicious meals a day in a dining room built around a tree and overlooking Lake Carlos.

And Then Came Summer - Alexandria Remembered (1978, Peggy Schoellkopf and Jane Carey De Lay). summarized the Blakes by the Lakes history quite succinctly: During all those years it achieved fame and fortune, was destroyed by a disastrous fire on July 21, 1920. It was immediately rebuilt. It finally came to an inglorious end - a ghostly wreck of rotting timbers in a sea of weeds. The final closing was in 1967.

What remains of the historic hotel? The stone staircase, descending toward the lake from the north end of building two was how early guests went from the hotel to the waterfront. The shuffleboard game at the bottom of the stairs, a popular recreation for hotel guests, also remains. The tennis courts in front of building one were finally removed in 2014. The stone wall along Highway 42 was buit by craftsmen during the heyday of the Blakes Hotel. Many trees still on the property stood when the hotel was operating.
City History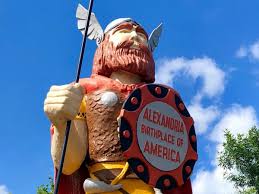 Alexandria is a city and the county seat of Douglas County, Minnesota. First settled in 1858, it was named after brothers Alexander and William Kinkead from Maryland. The form of the name alludes to Alexandria, Egypt, a center of learning and civilization. The city is often abbreviated as "Alex" (pronounced "Alek").
The city is known as a tourism center due to its many lakes and resorts. The city has a museum housing the controversial Kensington Runestone, which is thought by some to indicate that Vikings had visited the area in the 14th century. Outside the museum stands Big Ole, a 25-foot-tall statue of a Viking which was built for the World's Fair in New York City in 1964. (Wikipedia)